Commercial Flat Roofing Company in San Luis Obispo County also serving Santa Barbara and Ventura Counties
Commercial flat roofing contractors. Wicks Roofing has installed thousands of square feet of single-ply roofing.
Wicks Roofing and Solar experts understand that when it comes to flat roofing, there really is no other choice other than a PVC or TPO roof. They are built to last and proven to stand the test of time and water. If you have a flat roof and you have an old black roof with rocks on it, it's time to replace it with a new PVC roof. Wicks Roofing and Solar professionals undertake many commercial projects along the central coast, including; hotels, shopping centers, warehouses, schools, government centers, and many more. Wicks Roofing and Solar can handle any sized project and we are proud to have an all in-house labor force to ensure high quality and accountability in our workmanship. While white is the most popular color due to its reflective properties equating to energy efficiency, there are other colors available, from beige to black. Wicks Roofing and Solar invites you to contact them today to talk about these roofing services.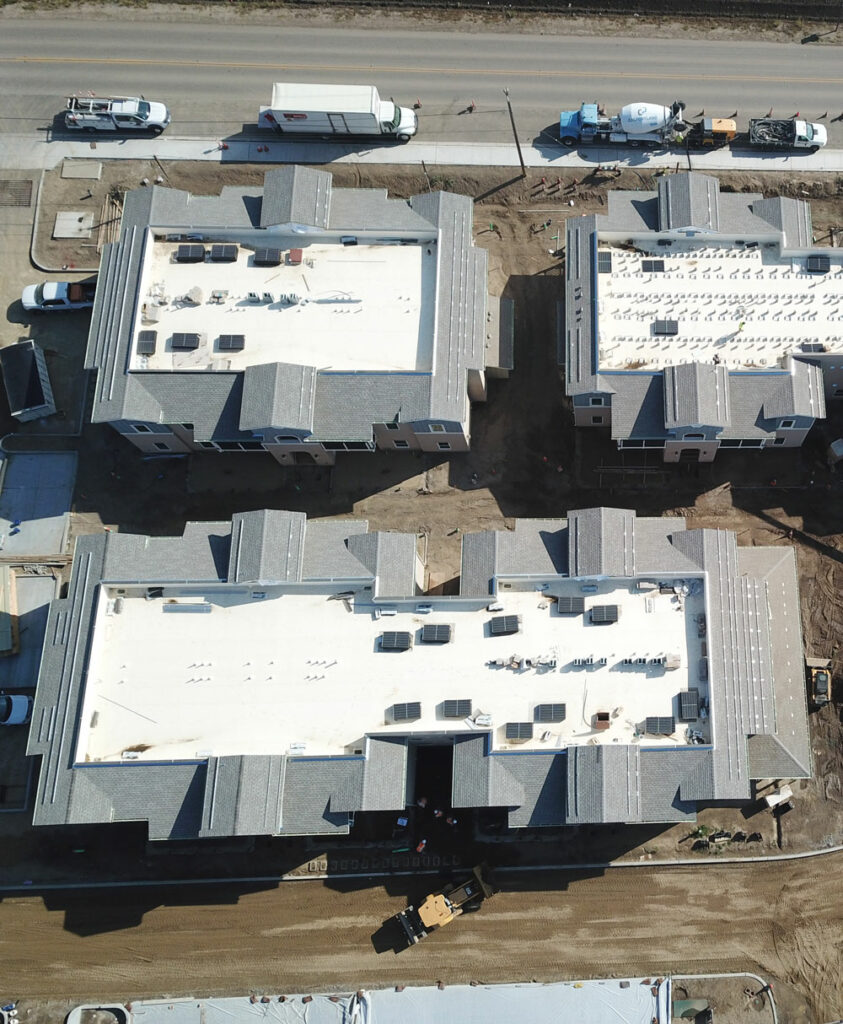 Delivering Value to the Tri-Counties
Wicks Roofing and Solar's roofing contractors are trusted industry experts able to provide their clients with true knowledge, and in-turn the confidence to feel comfortable making decisions about their projects. Wicks believes that empowering clients to make educated decisions leads to better business. We pride ourselves on having our sales staff fully versed on electrical connections, utility requirements, in addition to product selections.
Wicks Roofing and Solar Value Statement

High Quality workmanship – Wicks roofing contractors is a team consisting of highly skilled roofers, meticulous supervisors, and project managers who are dedicated to ensuring your tile roofing project goes smoothly. At Wicks Roofing and Solar, our philosophy is that client satisfaction is priority number one.

Unequalled Wicks Warranty – Any workmanship warranty is only as good as the company honoring it. Our roofing contractors are part of a business that has been around since 1985, and Wicks Roofing and Solar will be in business for many years to come. Our warranty is ironclad, and in the unlikely event of a product failure, we will be there to negotiate with the manufacturers.

Provide the Best Customer Support – Wicks roofing contractors understand the importance of excellent customer support! To reinforce our commitment to our customers, we have developed a custom App that provides Wicks Roofing and Solar customers with around the clock insight into the status of your project! You can also login to your customer portal here on our website. When you need to talk to someone, call us at 805 965 5122.
Ready To Discuss Your Next Project?