Tile Roofing Company in San Luis Obispo County also serving Santa Barbara and Ventura Counties
Spanish two-piece tile roofing professionals
Wicks Roofing and Solar offers a vast array of tile roofing options. Our roofers have been serving the tri-county region for more than 35 years. There are so many different varieties of tile roofing to choose from, including; two-piece mission style, single piece "S" tile, "W" tile, concrete flat tile, clay tile, etc. Each of these styles have many choices within their category, as well. Tile roofs are a great roofing choice for fire resistance. These Spanish inspired tile roofs are the quintessential Montecito Spanish style architectural appearance. The old-world look provides a certain aesthetic our roofing company specializes in installing. The method we use to hand soak each tile in water and mortar, while incorporating random boosters and copper twisted wire ties, is unmatched by any competing roofing contractor on the central coast! It represents a tradition of roofers' knowledge passed down for generations in this area. These tile roofs have been known to last nearly 100 years!
Wicks Roofing and Solar options also include Flat Concrete Tile, which is a durable and aesthetic tile roof option often found in gray. However, it's also available in an assortment of colors, including original Solvang Dutch tile options. Wicks experts also install "S tile", which is typically a terra cotta colored interlocking tile often found on Spanish architecture like the two piece. Please contact Wicks professional roofing contractors with any questions you may have about our beautiful tile roof options.
Tile Roofing Contractors in San Luis Obispo County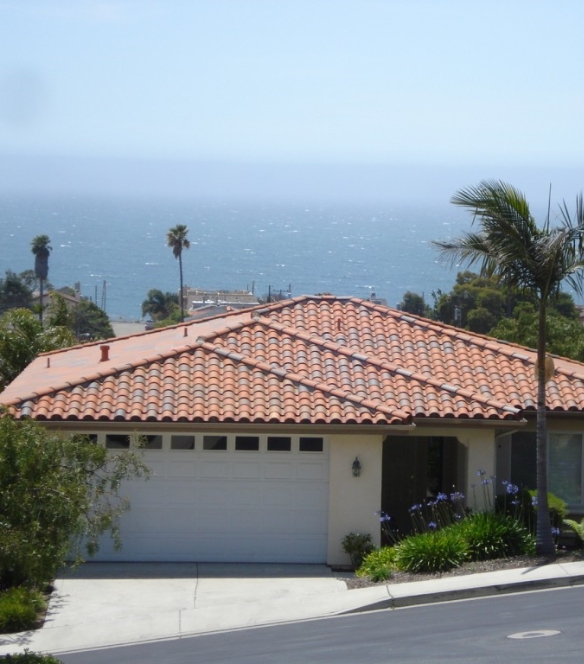 Delivering Value to the Tri-Counties
Wicks Roofing and Solar's roofing contractors provide trusted industry experts to provide their clients true knowledge, and the confidence to feel comfortable making decisions about their projects. Wicks Roofing and Solar believes that empowering clients to make educated decisions leads to better business. We pride ourselves on having our sales staff fully versed on electrical connections and utility requirements, in addition to product selections.
Wicks Roofing and Solar Value Statement

High Quality workmanship – Wicks roofing contractors is a team consisting of highly skilled roofers, meticulous supervisors, and project managers who are dedicated to ensuring your tile roofing project goes smoothly. At Wicks Roofing and Solar, our philosophy is that client satisfaction is priority number one.

Warranty – Any workmanship warranty is only as good as the company honoring it. Our roofing contractors are part of a business that has been around since 1985, and Wicks Roofing and Solar will be in business for many years to come. Our warranty is ironclad, and in the unlikely event of a product failure, we will be there to negotiate with the manufacturers.

Customer Support – Wicks roofing contractors understand the importance of excellent customer support! To reinforce our commitment to our customers, we have developed a custom App that provides Wicks Roofing and Solar customers with around the clock insight into the status of your project! You can also login to your customer portal here on our website. When you need to talk to someone, call us at 805 965 5122.
Ready To Discuss Your Next Project?